A while back, I wrote about a former student I've decided to call Chuck. While he was something of a problem, largely for getting me involved with institutional bureaucracy, he was neither the only one such nor the first. Nor, in the event, was he the most problematic of them in that regard.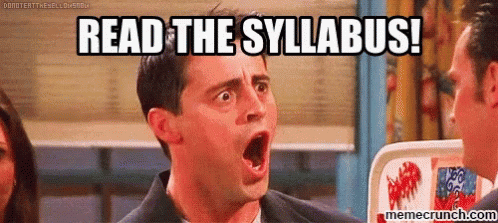 No, that one for me was back at the University of Louisiana at Lafayette, where I earned both of my graduate degrees and where I did my first few years of college teaching. In many ways, it was a good experience, although I readily admit I did not make the best possible use of my time there–but the fault for that is mine and not the institution's.
While I was there, and maybe in my second year of teaching there, I had a slate of first-year composition classes, as is typical of graduate students in English. As is also typical, I had some conference activities scheduled, and, in an attempt to be responsible and forthright about them, I had noted on the course syllabus when I would be away to take care of them. And as is not uncommon, I also had a note on the course calendar about the mandated attendance policy–namely, that students could miss a set number of classes without penalty, but after that, grade penalties would accrue up to and including failing the course.
You may be able to guess where this is going.
As happened most sessions that I taught a class with a mandated attendance policy, some students suffered grade penalties due to missing too many classes. (In my defense, 1) the policies were mandated, and 2) I offered students the chance to "test out" of the class; if they could submit A papers without coming, I'd agree that they didn't need to be in the room, and I'd excuse all their absences. None made the attempt.) As happened many such sessions, a few students failed on absences alone. And as happened more often than I care to recall, there were complaints about the grading.
The one that stands out, though, was a student I might well call Kofaire. She'd been a student in a second-semester composition class I taught in the spring, and she'd failed the class because she'd racked up something like thirteen absences in a class that met some forty-five times. (It's been a few years, so my counts may be a bit off.) When she came to my office hours in the summer–because I tried to teach summers, needing the extra money–I looked over the records I had, quoted the mandated policy to her, and sent her on her way; I'd thought that would be the end of it.
Wrongly, in the event, because Kofaire went from me to my department head and made the same complaint. Of course, she got the same answer after the department head pulled her copy of my syllabus and the gradebook I'd turned in (because all of us were asked to do that). It should have ended there, and I think, on Kofaire's part, it would have–but it stopped being up to Kofaire at that point, because Maman Kofaire got involved, then.
I first learned of Maman's involvement when I came into my office, checked my voicemail, and found not one, not two, but seven messages from her, asking (in various terms of politeness) that I call her back and talk about Kofaire's grade. Now, FERPA being FERPA, and me still not having begun to mellow out in my old age, I did what I thought I ought to do: delete the messages. But they didn't stop; when I came back to the office after teaching, I found three more messages waiting for me. And this went on for a couple of weeks, with every day seeing message after message after message asking and demanding that I talk with Maman about Kofaire's grade.
Meanwhile, I wasn't the only one getting to handle Maman. She'd gone in to talk to my department chair, bringing Kofaire with her and (inadvertently?) stepping around FERPA thereby. (The student, being present, could agree to have the conversation with others.) Kofaire had evidently been of the opinion that, if a day in the class had no explicit assignment made, there was no class that day–despite the explicit notes about when class wouldn't meet. Maman seemed to think the same, complaining about spending her "hard-earned money for [Kofaire] to have a class with some damned worthless grad student" and vowing that it would never happen again.
My department chair sent her out of the office. I am told that the college dean did the same. As did the Dean of Students. And the Provost. Rumor reached me that Maman even tried to go to the University President, only to be asked something like "Why are you bothering me with this?" But it was more than rumor that let me know Maman hadn't dropped the matter.
No, it was when Maman found out what classroom I was teaching in and ambushed me outside it, jawing at me for thirty minutes about how it wasn't fair that Kofaire had fared poorly, and that she didn't understand how some upjumped student could sit in judgment over her darling little girl. I count it to my credit that I kept my mouth shut except to say that "I can't discuss students, ma'am" and to excuse myself as quickly as I could–to my department head's office, where I reported the incident. I believe there was even paperwork.
I found out later from one of the campus police (I was in judo classes with him) that my report and the observed harassment from Maman Kofaire resulted in her being barred from campus. Kofaire herself, I believe, took second-semester composition again and had perfect attendance, scraping by with a low passing grade. And I have something of a story to tell, one I know others have, as well; maybe there's some study that can be done about such narratives by someone who's still able to be in academe…
I'm not writing syllabi anymore, but I am still writing, and I could still use your support!