Read the previous entry in the series here.
Read the next entry in the series here.
---
The chapter that follows, "Winterfest," opens with a description of how the holiday of the chapter's title is marked at Buckkeep. It moves to Fitz's continued work on the tasks assigned him and his ruminations on the current state of Skilled practice in the Six Duchies. He soon falls asleep, though, his exertions and the medication given him overtaking him.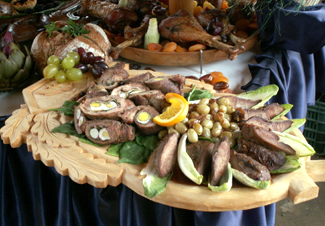 Nighteyes' announcement of Molly's arrival wakes Fitz from sleep, though. She asks him after going to see Shrewd about their nuptials and broaches the topic of rumors about his recent actions in the field. Fitz turns the questions aside, and the two enjoy another night together.
Molly leaves in the early morning, and Fitz falls asleep again, only to be roused by Burrich summoning him to his training appointment in Verity's tower. After Burrich stalks off, the Fool calls upon Fitz, offering an apology for his earlier misdirection. He also urges Fitz to call upon Shrewd again, floating the idea that they may be united in their opposition to Regal. They confer, and Fitz reports for training.
His progress in that training is sketched in, and, once it is done, Fitz attends to his many other duties. The first of them is to call on Shrewd, as he had intended. Verity accompanies him through the Skill, noting oddities in his father's conduct as he does so. Fitz forces his way past a putative attendant and works to set Shrewd's chambers to rights. The attendant fetches Regal, who interferes–to an extent, before Shrewd issues his orders. Fitz departs, his mind reeling at what he has seen.
I think Hobb does well, overall, at capturing the throes of teenage romance. Fitz's conduct and thoughts in the present chapter–and several preceding it–bear it out; the propensity towards grandiosity and dramatic declarations rings true for me, as I think has been the case for many other people. (I am not entirely pleased with how I acted in my younger days. Those who know me can probably guess why. And I do not think I am alone in it.) Looking back, both on my teenage years and their "romances" and on a series of novels I have read before, I cannot help but cringe, knowing as I do that what is coming is. For while there are some adolescent loves that linger and deepen, most teenage amorousness leads to other ends than might be desired, and it is not the case that an assassin is like to have a happy ending…at least, not in the short term.
The passage of decades can change quite a bit, however.