Read the previous entry in the series here.
Read the next entry in the series here.
---
The following chapter, "Signposts," opens with comments about relative valuation before moving into the party's continued travels. Kettricken notes to Fitz that the way will become harder and may force him onto the road; he replies that he can but go forward. Fitz continues to ponder the stone-game puzzle Kettle had put before him, and Starling continues to press Fitz for details about the Fool before asserting the belief that the Fool is a woman enamored of him.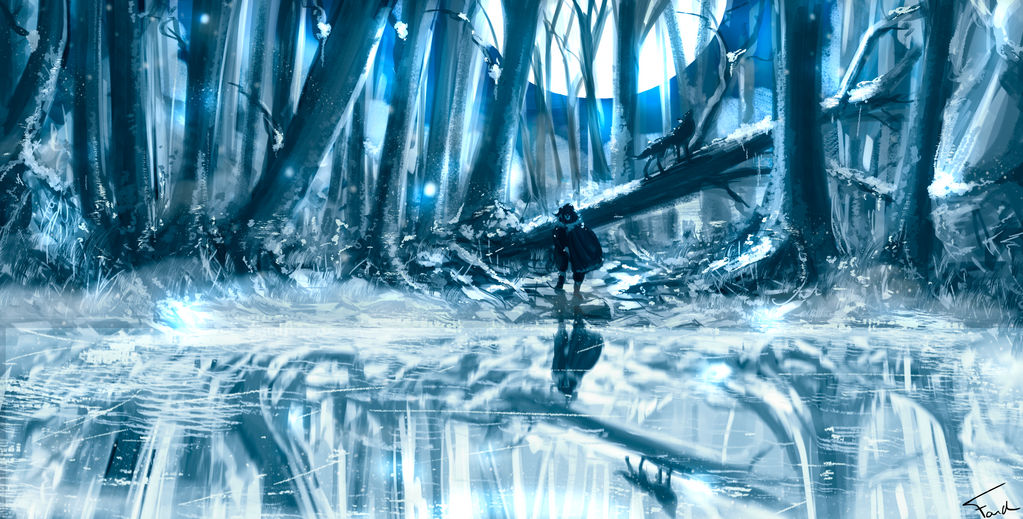 Fitz rejects the idea. He also finds himself forced back to the road by a sudden shift in the terrain; Nighteyes helps anchor him in himself, noting some of the distinctions between wild and domesticated animals. Kettle then starts to accompany Fitz, and she sets him to considering the seeming nursery rhyme she had recited at an earlier camp. He realizes that it discusses Skilled ones, and Kettle offers little more before returning to stone-game puzzles. It makes for a slow march through the rest of the day–until Fitz makes to follow a road he sees but that no longer exists, and the rest of the party must save him from himself again.
Kettle frets in the discussion that follows, but the Fool, acting the part of the White Prophet, offers some words of comfort. Kettle allows Fitz to indulge his habit for elfbark, though not nearly so much as he would prepare for himself. As he takes the drug, Kettricken solicits his opinion regarding Verity's likely course; Kettricken purposes to split the group to search for him, but Fitz persuades her otherwise, aided by Nighteyes. Verity reaches out to him with the Skill, and Fitz once again comforts Kettricken before he is distracted by the call of the Skill once again.
Once again, I found myself having trouble reading and keeping straight in my mind what all happens in the chapter–my earlier comments about such seem still to apply here. And it occurs to me as I think about what I have just read again that there might be some comment to be found in the chapter about the perils of making too close a return to a past that is not a person's own. Such a comment suggests itself to me, given my training as a medievalist; the whole of the work such folks do is in approaching a past to which we might be heirs but which is not our own. There is always a threat of becoming too lost in the work, as old tropes of absent-minded professors and the partial home lives of many, many scholars can attest. Even now, even after I have left off academe almost entirely, I feel a pull when I do look back into scholarship, and I know that I may still find myself stepping off into space when it seems to me a road still stretches before me–though I trust that there will be hands to pull me back from it.
Too, there is something to be found in Kettle's grudging permission for Fitz to take a small bit of elfbark. Allowing someone who is addicted to a substance to partake of that substance is a perilous thing; relapses happen, and there is always peril in making chemical modifications to a body. At the same time, there are effects of withdrawal that sometimes make such needed. I have seen clients come into the treatment center where I work who could not simply stop drinking; doing so would kill them. And there are concerns, too, usually associated with painkillers in the real world, that dosing as (should be) prescribed is fine–but the medicines lend themselves to dangerous overindulgence. How much can be taken from the text about such matters is unclear, but there is clearly something there to consider…
If you've liked getting this stuff, please help me keep doing it.