Read the previous entry in the series here.
Read the next entry in the series here.
---
The following chapter, "Resolutions," opens with a report made to Chade at the end of the Red-Ship War before turning to Fitz stopping off to spy on Elliania en route to Lord Golden's rooms. He overhears a strange conversation among the Narcheska, Peottre, and their supposed servant Henja, one in which the last tries to command Elliania to bed Dutiful, only to be refused. The Narcheska purposes to show herself as a woman grown and to rebuke Dutiful for his social gaffe, overruling Peottre's objections.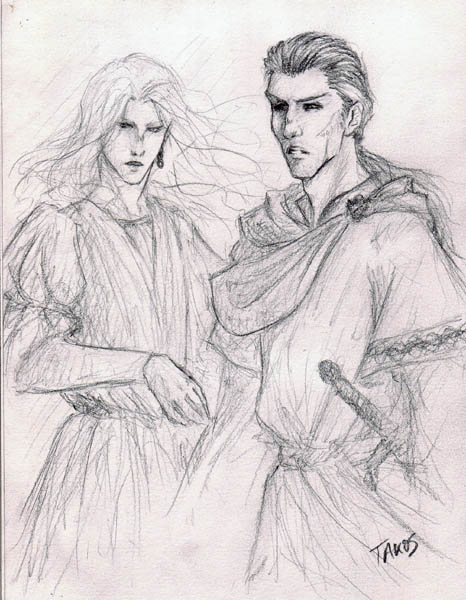 Fitz reports to the Fool, who reports in turn the invitation to ride with Dutiful. Fitz resumes his guise as Badgerlock, attending to his servant's duties and taking in such gossip as he can as he does so. When he returns, he finds Golden waiting with yet more finery for him to wear–and he largely approves of it, this time. The two join the party awaiting the Prince's pleasure, and the Narcheska and her uncle make a decided statement with their delay and deportment–one that is understood by all in attendance.
Riding out in party, Dutiful Skills to Fitz, complaining of his treatment. Fitz counsels him to caution and calm, and the youth hopes for a return to normalcy that will never come. Entertainments follow the ride, and in the evening, Badgerlock goes to the Stuck Pig to seek out Hap. There, he is confronted by Svanja's father, and he attempts to defuse the confrontation. As the two fathers go in search of their wayward children, Fitz confronts the ineptitude of his own actions and muses bitterly on them.
Ah, Dutiful; suffering punishment is not the same as making amends. But Dutiful is young, certainly, and has been sheltered; he can, perhaps, be forgiven for not knowing it. Fitz, however, is neither young nor sheltered, and he has had ample opportunity to learn the lesson he knows Dutiful has not. Not that I'm necessarily any better about things, although my child is not yet running around in the night with strange people of whom I do not approve…Still, one of the values of literature–whether "high" works or genre fiction–is that it allows the reader to see things from other perspectives. So seeing, we have the opportunity to learn, if we can make the leaps to distill out the lessons being taught and to connect them to our own lives. It's not an easy thing to do, certainly, at least for me; for all that I have advanced degrees, there are areas in which I am a poor student, and rereading sometimes reminds me of so much.
It is a reminder I could probably use more often than I get it.
I'd be happy to put my talents to work for you; let me know what all you need written, and we'll talk!