Read the previous entry in the series here.
Read the next entry in the series here.
---
The following chapter, "Coterie," begins with a comment from Fedwren about the political structure of the Six Duchies before turning to Fitz waking in captivity and in pain–again. Another prisoner attends to him, albeit roughly, and Fitz realizes he is one of Chade's agents. He Skills with Dutiful, who reinforces the coded message Fitz's fellow prisoner passes along. He is also briefed on his situation with local law enforcement–which is not good, as he is accused of multiple murders.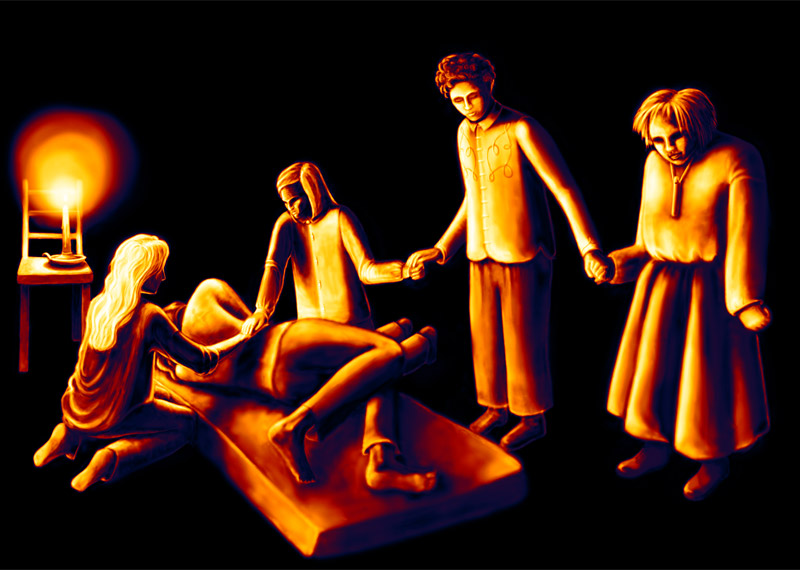 Fitz slips in and out of consciousness across the ensuing days, his condition worsening. The pretense for extricating Fitz from prison–he had killed in the course of defending himself and Lord Golden's property–is rehearsed, as is Fitz's relocation to Lord Golden's chambers in Buckkeep Castle. Chade, the Fool, Dutiful, and Thick gather together to attempt to heal him via the Skill, failing initially but stumbling at length into an unexpected and extreme healing that addresses not only Fitz's current injuries–which run to a punctured bowel and blood poisoning–but also a number of others he had incurred over the years.
In the wake of the healing, Fitz realizes that they have inadvertently formed a coterie–and a ragged, unbalanced one. He lapses into unconsciousness again, sleeping several days with few interruptions that he recalls. One is Kettricken tending to him, and they discuss the extent of his healing and her appreciation for his presence, who remembers what she has lost.
I'll note that there is some deus ex machina at work in the present chapter, although some of it may well be foreshadowed by Kettle. And my comments about the device hold true now as then: it "is not a reason to take on a particular literary atheism." Agnosticism, perhaps, but not straight-out atheism.
The healing, too, does seem to function as something of a literary climax, although the novel has already featured such. Admittedly, there are multiple narrative threads going on in the novel, in the series, and in the broader corpus; the restoration of the Skill to the Six Duchies could well be taken as such a thread, independent of the political entanglements of the nation-state or the coming-of-age narratives surrounding Dutiful and Elliania. I might someday perhaps work on a larger scholarly project that untangles and interprets such things, or I might only annotate the work someone else does in that line, but I think it might be a thing worth pursuing…
I offer writing and tutoring services at reasonable rates; get in touch!