Read the previous entry in the series here.
Read the next entry in the series here.
---
The next chapter, "The Coterie," starts by musing on the strange dearth of depictions of the Elderlings in the Six Duchies. It proceeds then to Fitz's debriefing–punctuated by angry commentary from Kettle. Nighteyes expresses his concerns to Fitz through the Wit, and Kettricken examines the map Fitz has brought back from the strange city. With that information, they make to rest and ready for further travel to Verity, and Fitz becomes concerned for the Fool, who seems to be fevered. Fitz prepares elfbark for him, raising some mutterings from Kettle, and the two talk of the Fool's health and physical nature.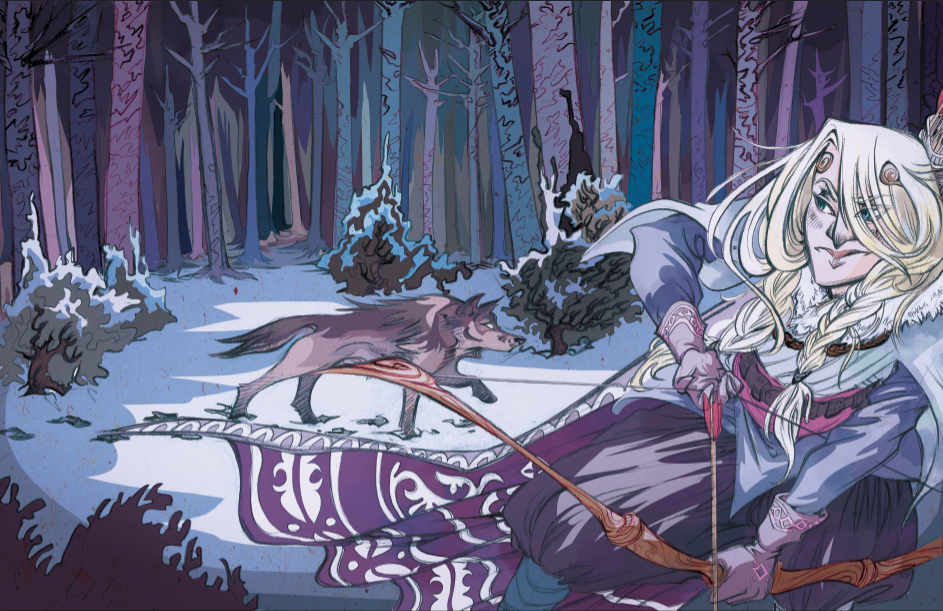 Fitz wakes early the next morning, and Nighteyes stalks out to scout. The two determine that there are approaching riders, and the party makes for an armed withdrawal. They proceed until they encounter a rockslide they must cross; Nighteyes provides intelligence on their pursuit as they make to pass. The crossing is made with difficulty, and the illness that has taken the Fool is painfully evident as Fitz assists him.
In its wake, the party considers the intelligence relayed by Nighteyes and tries to puzzle out their pursuit's intent. It becomes clear that Regal has sent pursuit to follow Verity and Fitz; surely, their work must have led to some end? Fitz purposes to backtrack and, with Nighteyes's aid, ambush their pursuit; the rest of the party presses on, save Kettle, who surprises Fitz by volunteering to assist him. Their sortie is successful, eliminating half of their pursuers and acquiring their provisions. In its wake, Kettle asks Fitz about his assassin's work and reveals to him that she had been exiled for killing a member of her own coterie through the Skill.
Among other things, the chapter offers a useful reminder that FitzChivalry Farseer is not a nice person; he is, in fact, rather the opposite, a by-blow acknowledged as necessary even as he carries out markedly distasteful duties. Early on in the rereading series, I remarked on the emblematic nature of his name; events in the succeeding books have not always reinforced the fundamental nature of the work for which Fitz is trained and at which, when he is thinking clearly and paying attention, he excels. The present chapter, however, does so, and it reminds readers through Starling's reaction to Fitz's open statement of his planning that Fitz is not a traditional hero, even if he partakes of that tradition in some ways.
The revelation about Kettle, though set up in previous chapters, does seem to be somewhat convenient, bordering on a deus ex machina. I've commented on the phenomenon before, and my comments remain in place; the presence of the device does not mean the writing is bad. But it does seem somewhat jarring in the present circumstance.